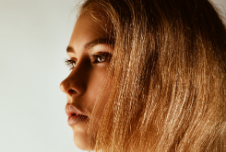 Dermal fillers are exceptional for shaping the lips and cheeks, this we all know, but they can actually be used to enhance your profile and facial structure too. Some clients may feel they are being too critical or picky when they say they do not like the way their face looks from the side, or their profile view, but this is an understandable concern. An imbalance in facial structure wherever it may fall can throw the rest of the face's perspective out of harmony. Dermal fillers for chin and jaw shaping, or profile-balancing and contouring, have become very popular.
Dermal fillers for the chin
The appearance of a 'weak' chin can seem to retract the lower face farther back than would appear natural or balanced. A weak chin may lead to the upper lip seeming to protrude further than the lower, when actually the problem doesn't lie in this area. It can also make the jaw appear weak too, softening your facial structure from the profile view. Dermal fillers for chin structuring are buildable, so placing the filler in this area allows us to add more substance to the chin and therefore readdresses the facial balancing. The eye is no longer drawn to the facial imbalance, but facial symmetry is created. This could even influence how your lips influence the appearance of your lower face as well as your jaw's structure.
Dermal fillers for the jawline
Jawline dermal fillers have become increasingly popular, as this advanced treatment can transform your facial angles in mere minutes. A weak jaw may soften your lower face and rob you of a typically feminine facial structure. A lack of facial structure in this area may lead some clients to feel self-conscious of their rounded face whether from the side or facing forwards. Carefully placed dermal fillers along the jawline, chin, and jaw corners can add effective shape and structure to carve out and contour the lower face. Doing so could rebalance your facial features and create a more symmetrical facial structure.
Dermal fillers for the jowls
The jowls are situated between the lower cheek and the jawline, and naturally occur as the skin in the area sags and looses volume. When this skin begins to fall from the lower cheeks and mouth corners, it creates sagging pockets between cheek and chin that could also deplete your jawline's angles. Adding dermal filler to this thinning and falling skin helps to 'lift' it with added volume, softening the sagging for a naturally rejuvenated yet noticeably fresher appearance. This isn't often an area that clients would associate with a lack of jaw structure but treating the jowls can greatly benefit the appearance of your jawline and chin too.
Dermal fillers in High Peak
If you are searching for dermal fillers in High Peak that are tailored to you, contact Registered Nurse Karen Burgess at Skin Solutions Clinic. She offers treatments that are personalised to your needs and facial structure, so your results will always be unique to you.