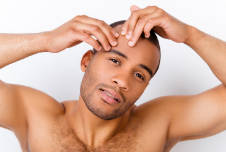 It's 2019 and men are now opting for injectable treatments such as dermal fillers. In recent times, the taboo is being lifted on aesthetic treatments for men, as it's being widely recognised that men would opt in to look and feel good in themselves just as much as women. Body positivity applies to all sizes and genders, but over the years it's been seen more to be a feminine option however this is now being dismantled. Dermal fillers are also typically associated with fuller lips and cheeks in the female face, but because of their treatment nature and capabilities they can also be used to sculpt and define areas of the masculine face too. Let's break down how dermal fillers can be applied to men below.
The typical masculine face
The typically chased masculine structure tends to look angular and strong. High cheekbones, a prominent chin sometimes accompanied with a cleft and an angular jawline are all common traits of an 'attractive' male. A broader nose may sometimes be requested by male clients. The ideal make cheekbones begin high, almost towards the ear, and extended further down the face than a female cheekbone for elongating instead of having a rounded effect.
How dermal fillers work
One of the most impressive aspects of dermal fillers for men is that they are completely buildable. This means that you can continue to work on your dermal filler progress and it's not simple a one size fits all approach. Giving you the opportunity to build not only within the cheeks region to give them a plumper look, but also within the jawline to create a more masculine and aesthetic structure. Adding dermal fillers to the chin also helps to elongate the jawline and create a more angular appearance to the lower face, enabling you to alter the perspective of the symmetry to your natural facial features.
The ageing male face
The signs of ageing can come for both men and women, though it is true women tend to see them first. This is due to the natural makeup for their skin, as men's skin tends to be tougher and thicker than women's skin. However, this does not mean they are exempt from ageing as with time men's collagen degradation can be seen. Facial folds may appear between the nose and mouth and beneath the eyes in the tear trough regions and if dermal fillers were to be applied, they can soften the appearance of the facial folds to produce a more youthful looking complexion without adding femininity to the male client.
If you're considering dermal fillers and now understand that males have the option to do so without compromise, then feel free to get in touch with us here at Skin Solutions Clinic with registered nurse prescriber Karen Burgess today.