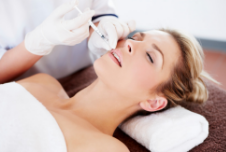 Dermal fillers have been associated with media personalities and celebrities for a long time, but their results don't have to be stark changes and differences to your natural facial structure. In fact, dermal fillers can enhance your natural beauty without being too altogether visible. This has been dubbed the rise 'tweakments', where you'd just like a little something treated or for a certain perceived problem area to be slightly altered. Dermal fillers are capable of producing very subtle and refreshing results when used correctly, so let's explore how dermal fillers perform as tweakments.
Less is often more
When done right, dermal fillers can create more natural-looking results with less product. For example, plumper lips don't always mean more filler, because when you place the filler that you use will have different effects. In the lips, dermal filler can create a more prominent lip border, enhance the cupid's bow, address asymmetry, and give your lips more contour from a profile side-on view. The treatment doesn't always have to mean bigger lips, but it can mean reshaped or rebalance or refreshed lips depending on your desired results.
Rejuvenating the lower face
Dermal fillers aren't just about changing the structure of cheeks or lips, though. They're being utilised by some clients to smooth soft tissue lines between nose-to-mouth and mouth-to-chin lines. Nose-to-mouth lines occur when the skin naturally thins with age, causing gravity's downward pull to create sags and folds. Placing dermal filler in this area helps to add more substance to the skin, lifting it slightly to decrease the soft tissue lines in the area. This is much the same for mouth-to-chin lines, or marionette lines, where thinning skin folds on itself. Sometimes, an approach called anatomic injecting can be taken where we place dermal filler in the cheeks to lift the sagging skin of the jowls, treating the target area at its root cause rather than at the immediately visible treatment site.
Alternatives to surgery
Dermal filler 'tweakments' have also proved effective alternatives for surgical treatments such as the surgical rhinoplasty or nose-job. The non-surgical rhinoplasty involves treating bumps and ridges in the nose by filling the 'dips' caused by the irregular shape. This means that you do not have to commit to surgery and can merely 'tweak' your appearance without the tell-tale recovery process and visible bruising and dressings that surgery offers.
The nature of dermal fillers
The nature of dermal fillers is that they are buildable, meaning we can amend your treatment at necessary intervals. Your desired results may not be immediately visible after the first treatment and you may need a second to gradually build up to your end goal. This makes dermal fillers very effective 'tweakments' because we can literally tweak your results with precision-placed injections during your treatment journey before we reach your desired end results. This makes them almost flexible in that they can shape your target area gradually over a few appointments in order to build your results and tweak your appearance, maintaining a more natural and discreet progression to your treatments.
When considering dermal fillers in High Peak, Derbyshire, trust Karen Burgess of the Skin Solutions Clinic. Enquire online or get in touch on 07809 492 356 to book your free initial consultation today!