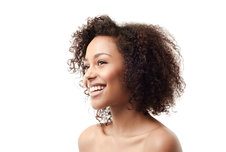 A V lift, also known as a liquid face lift, is a great alternative to having permanent plastic surgery on your face. They're becoming increasingly popular and, owing to the fact that they're semi-permanent, won't change your face forever – so you can tweak your treatment in the future, if needed.
How the treatment works
These types of face lift use injections of fillers and collagen stimulators. These work to plump and tighten skin, tackle wrinkles and fight signs of sagging. It's named a V lift because it helps recapture a youthful, triangular shape and bring volume to the middle of the face, such as cheekbones and temples, while softening creases in the lower part of the face.
How the injections work
The treatment uses a combination of dermal fillers and collagen stimulators. The latter are known for their correcting and volumising properties, while helping the body stimulate collagen production, a key protein which helps maintain the skin's strength and elasticity. These are typically used on large areas of the face. As for dermal fillers, these are used for deep lines and wrinkles and midface areas, as well as in the lips, and contain hydrating hyaluronic acid.
Treatment benefits
A huge benefit to the treatment is that there's little downtime following the procedure – just some slight swelling, which should pass, and possibly some areas of light bruising. It's not too painful, either, as some of the injections contain lidocaine, known for its numbing effect. You'll enjoy results for up to 2 years following treatment, and should see the effects straight away.
Choosing Skin Solutions
At Skin Solutions, we're renowned for fantastic care and great results. Our highly-trained Nurse Prescriber, Karen Burgess BSc (hons), has over 25 years' nursing experience and is always reviewing the latest treatments, while our clinic is regulated by the relevant authorities. And, alongside our V lifts, we offer a host of other treatments, including dermaroller, chemical peels and hair removal. In addition, we have several targeted treatments for men, including botox, skin rejuvenating and laser treatments.
How to book
Booking couldn't be easier –  simply fill out the web form on our contact page to get in touch. We also offer free consultations to properly discuss your treatment and ensure you get the results you're looking for, giving you a chance to meet Karen and talk to her face-to-face ahead of your treatment.