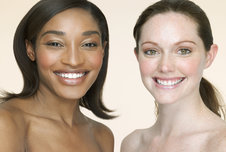 At Skin Solutions Clinic, within the High Peak of Derbyshire, we see a range of clients about treatments both cosmetic and medical. One of them is hair removal – and as we step into Spring, with potentially warmer and dryer weather round the corner, it's easy to see why.
Both men and women come to our skin clinic for hair removal treatment – and it's amazing to see how something so simple can really boost confidence. In this post, we'll talk through what our treatment involves and what you can expect.
Suitable for everyone
As we've said, men and women both see enormous benefits from this treatment. But as well as this, it's worth remembering that advancements in the technology mean that all skin types can now be treated, too (it previously wasn't recommended for darker skin tones).
A simple procedure
The treatment involves destroying the root of the hair follicle, which prevents future hair from growing. It might sound painful, but it's all done with short pulses of light from a laser – otherwise known as IPL – which heat the follicle. All that's needed is a few repeat sessions to ensure all the hairs have been destroyed.

Immediate results

Hair removal treatment is known for being effective – you'll see hairs fall out straight away, and some fall out over a few days following your treatment, too. As stated, you will need several sessions of the treatment, as hairs grow in a cycle.
Low-pain, maximum gain

When compared to shaving cuts and the painful rip of wax, laser hair removal is much more comfortable, with just a slight stinging or tingling sensation usually reported. There's no downtime following the procedure, either (though you may have some sensitivity or redness).
Cost-effective
Constantly topping up your at-home supply of razors and wax, or booking in with your salon every month, can really eat into your money. Even if IPL seems more expensive at first glance, it's much more cost-effective over time, and the benefits last longer, too – so it's actually a good beauty investment.
Treats multiple areas
Laser treatment can even be performed on some more sensitive areas, though it's mostly performed on the legs, back and chest. If you're unsure about whether it's right for you and your skin, Karen can talk you through this at consultation stage.
Book with Skin Solutions Clinic today

If you're ready to reveal beautifully smooth skin, get in touch with our clinic today and we'll book you in for your laser treatment.