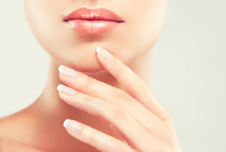 At Skin Solutions, Derbyshire, we are proud that our clients are beautiful in their own way. However, should you want to enhance that beauty, we offer you the support to make the right decision for you, as to whether lip enhancement will achieve the look you desire. Too often we see the 'duck lip' look. However, natural lip enhancement has become a popular treatment over the years as the demand for the natural look is growing.
What is Lip Filler? 
Lip Filler is a pure form of hyaluronic acid, which is a natural substance found in the body. The advantages of this substance mean it attracts more water than its own weight resulting in a more natural look, if done correctly.
Every lip shape is different, why not match it? 
With the overdone look becoming something of the past, here at Skin Solutions, we would like to adhere your natural lip shape, in order to create a fuller lip shape. Increasing the lip body volume allows the correct ratio.
Why do some Lip Enhancements look over the top? 
There are a variety of reasons as to why Lip Enhancement can look 'too obvious'. At Skin Solutions this is not something we endeavour to achieve. We promote natural beauty and want the results to look as natural as possible. Here are some points of what shouldn't happen when performing this treatment:
Too much product – usually clients have a maximum of 1 ml at any one time. If done gradually then the right look can be achieved.
Poor injection technique – at Skin Solutions Clinic we inject with a cannula as it reduces the risk to the tissue of swelling and bruising.
Incorrect product placement – often this is due to poor injection technique. If the product is injected superficially or too deeply, it will disappear.Therefore choosing the right, qualified injector is essential
Does Lip Enhancement hurt? 
Lips are a sensitive part of the face, therefore when treating the patient, we apply a topical anaesthetic to reduce discomfort as much as possible. If you feel this pain will be too much then patients can inform the Nurse Practitioner who may then offer a total dental block in order to create more comfort for the patient thus making the treatment a more positive experience.
If you would like to enhance your natural beauty and feel this treatment would be something of interest, then please do not hesitate to contact Karen at Skin Solutions today and book a free consultation to find out much more.