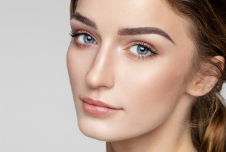 New Year, New Skin, New You

Here at Skin Solutions Clinic, a renowned skin clinic in Derbyshire run by nurse prescriber Karen Burgess BSC (hons), we always make your skin our priority. We've seen it time and time again with our clients – when you take care of your skin, you look and feel happier. So, in this post, we'll go through our top treatments to help refresh and reset your skin this January.
Dermal fillers
One of our popular wrinkle treatments, dermal fillers have so many fantastic uses. They can help restore volume to your face to define the facial contours; smooth out lines, wrinkles and even acne scarring; and also add definition and volume to your lips. While some wrinkle treatments are only used on fine lines, dermal fillers can help treat much deeper-set wrinkles. Our fillers use hyaluronic acid, which is naturally present in the body, and known for its hydrating properties.
Chemical peel
Who doesn't want gorgeously glowing skin? Our chemical peels can do just that, helping to rejuvenate not just the face, but the neck as well. Whether you want to improve tone, texture or appearance, our skin peels are hard-working and intensive, while offering a soothing and relaxing experience. Karen can also tailor your peel to your skin needs, and can advise on the best treatment for your skin needs.
Ultimate shaping solution
One of the latest non-surgical facelift treatments available in the UK, Karen is one of a small number of registered nurses able to carry out this procedure, having had training for it in the renowned medical district of Harley Street, London. An alternative to both a surgical facelift and thread lift, this treatment has little downtime and pain involved, with the same fantastic results – previously sagging skin that appears lifted and more youthful, from the face to the neck and brows.
Treatments for men
Here at Skin Solutions Clinic, we offer all our treatments to men and women. We don't believe men should miss out when it comes to looking and feeling their best, and feel they should enjoy the same fantastic benefits as our female clients – from a brighter complexion to smoother skin. Some of our recommended treatments include hair removal, laser treatments and chemical peels.
If you're ready to give your skin the love and attention it deserves, don't hesitate to book in with Karen today at Skin Solutions Clinic, Derbyshire.