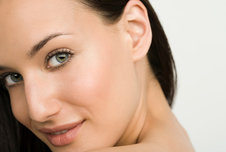 At Skin Solutions, we offer a variety of cosmetic procedures. While some are arguably beautifying, acne treatment is more condition-led, helping soften the look of scarring and helping those who have had the skin problem in the past feel more like themselves in the future.
Before we go into the acne scarring treatments available, which are all performed right here at our Derbyshire clinic, it's worth noting that all our procedures are carried out by Karen Burgess BSC (hons), who is both a registered nurse and a member of the British Association of Cosmetic Nurses (BACN), with 20 years' experience to her name.
IPL
This laser treatment – Intense Pulsed Light therapy – uses short blasts of light to go below the surface of the skin, kickstarting the skin's regeneration process. This, in turn, causes the body to repair skin damage, evening out tone and reducing redness. You'll usually need a few treatments to really see results.
Dermal fillers
For those with 'ice-pick' scarring, dermal fillers could be the answer, as they help boost collagen production in the body, can restore lost volume and deliver bursts of hydrating hyaluronic acid to skin.
Dermapen/dermaroller
This treatment uses a series of fine needles to make light pin pricks, encouraging skin renewal through micro-injuries. Minimally invasive and with little to no downtime, with accurate skin targeting and speedy treatment, it can help skin self-repair.

Chemical peel
There are lots of different types of chemical peel with varying degrees of intensity, but they all have the same sort of effect – a plumping of the skin and a shrinking of the pores. Collagen production is also stimulated in skin, so results get better over time.
The procedure works by peeling away the top layers of skin, revealing the newer skin underneath. It's well-known for helping improve the look of skin's tone and texture, and can leave skin glowing and radiant.
How to book
When it comes to choosing an acne scarring treatment, it pays to book in with us here at Skin Solutions. That's because we have experience and expertise behind us, with Karen Burgess at the helm. Our welcoming clinic is fully insured and we even offer no-obligation consultations for those who are unsure of what treatment they need. Our clients love us – and we're sure you will, too.
To book in with us, simply fill out our web form, and we'll be in touch with you shortly. In the meantime, you can feel relaxed that you've made the right choice in booking with our highly regarded clinic.