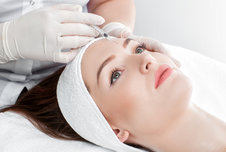 At Skin Solutions in High Peak, Derbyshire, we take great pride in putting a smile on people's faces and making them feel more confident in the way they look. If you are considering undergoing a treatment such as Dermal Fillers, it is important to consider who can help you achieve the results you desire. Here, we hope to help you make an informed decision as to whether dermal fillers are for you.
What are Dermal Fillers?
Dermal Fillers are an injectable gel containing a substance called Hyaluronic Acid that occurs naturally in the human body. Injecting this substance into areas of the face that have lost volume through the ageing process can rejuvenate your skin and give you a more youthful appearance. These positive results are making Dermal Fillers an extremely popular treatment. Their ability to reduce the appearance of fine lines and wrinkles make them the number one remedy against the signs of ageing. They can also be used to plump lips, enhance shallow contours, and accentuate your facial features and structure.
Who should perform this procedure?
Unregistered practitioners, or those who lack the required training and extensive medical knowledge, should never carry out Dermal Filler treatments. The procedure should always be performed safely, and only in a suitable clinical environment, where the appropriate advice and aftercare can be provided. When undergoing Dermal Filler treatment at Skin Solutions in High Peak, Derbyshire, you can be confident you are in safe hands. With 20 years' experience as a nurse, Karen Burgess has the training and expertise required for providing the latest, medically approved Dermal Fillers.
Can the results of Dermal Fillers look natural?
It's a common misconception that Dermal Fillers always produce unnatural looking results. If performed by a qualified practitioner, results can looks entirely natural. At Skin Solutions in High Peak, Derbyshire, we believe that our patients' results should look effective while remaining subtle. This is why we always offer no-obligation consultations. These are an excellent opportunity for us to ensure that treatment is right for the results you desire and if not, we can recommend a more appropriate treatment. We have a passion for providing treatment of the highest standard and offering you the support that you need.
If you want natural looking results, then don't hesitate to contact Skin Solutions, High Peak, Derbyshire, today. We will be more than happy to assist you with any questions you may have before beginning your Dermal Fillers journey.