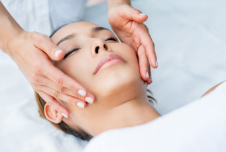 A chemical peel, or a course of them, are great for remodelling and regenerating your skin, but they do need a little TLC after each treatment. They work by damaging the surface layer of skin cells that are already somewhat compromised, drying them out and encouraging the body to shed them in flakes of dead skin. Because this treatment forces skin cell renewal on reluctant and congested skin, there is some chemical peel aftercare you should follow.
Always wear sun protection after a chemical peel
Sun protection is probably one of the most important steps in your chemical peel aftercare. Because your peel has damaged the top layer of skin, it is now sensitive and can become easily inflamed by UV rays. The new skin beneath it is readying itself to come to the surface, so as your dead skin flakes off this new, untouched skin will become more visible. This skin is very vulnerable to sunlight, and prolonged exposure could lead to irregular hyperpigmentation as the skin heals and even a nasty sun burn. Sun protection should be worn for 7-10 days after your chemical peel, until your skin has stopped flaking entirely and it begins to return to normal.
Let the skin heal
It might be a little tempting to pick and scratch at the dry skin you see flaking away from your face, but it's important you resist these urges. Picking at or peeling this skin could harm your results, as if it hasn't been naturally shed by your body yet then it isn't ready to come to the surface. Picking at the dry skin will sting, as part of it is still attached to alive skin, and the new layer of skin beneath it isn't ready to come to the surface yet. Exposing vulnerable patches of new skin like this could cause hyperpigmentation that may scar, as well as it becoming red and stinging for a good few days. Let your skin heal naturally and you will reach your results much more comfortably.
Use lighter skincare products
A lot of acne sufferers opt for a chemical peel to lessen their skin congestion and rebalance their oils, but these are often the same clients with aggressive skincare routines. Taking a break from using cleansers that are high in alcohol, perfumes, and acids will allow your skin to heal properly without irritating the already damaged and regenerating skin cells. A light, non-perfumed daily cleanser is much better for skin that is already a little sensitive. Moisturisers would also be a great addition to your skincare routine, as they will help to alleviate some of the itching urge to pick at your skin and will also keep the new layer of skin plump and hydrated.
Taking a break from makeup
Post-chemical peel, it's always wise to take a break from face makeup for at least the first 24 hours. This is because your chemical peel has worked hard to cleanse away your oils, unclog your pores, and draw out any impurities, so applying oils and chemicals back onto healing skin can be counter-productive, especially for those with already problematic skin. Mineral makeup, tinted moisturisers, and tinted SPFs are still okay as long as you remember to cleanse your face before bed, but heavy non-mineral makeup might be wise to avoid while your skin heals and adjusts.
Find out more about chemical peels in High Peak, Derbyshire, today with Skin Solutions Clinic. Book your free consultation on 07809 492 356 to find out how you could transform your skin!