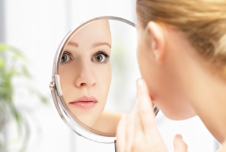 Beating acne is so empowering, and you can feel like the victory is all yours. Problematic skin, congested pores, and excessive oil production have all been treated and now you're left with healthy and even-toned skin. But then, what if you notice some acne scarring and you feel like the win has been taken from you? Acne scarring can detract from your confidence as the evidence of your skin condition is still visible, but there are ways of treating acne scarring.
Why acne scarring occurs
Acne scars occur when the skin heals irregularly after a particularly aggressive encounter with spots. There are two main types of acne scarring: dimpled acne scarring, and post-inflammatory hyperpigmentation (PIH). Dimpled acne scarring occurs when the skin has been damaged to such a degree that the webbing of collagen and structures beneath the superficial layer of skin are almost destroyed. These deeper layers are damaged, so the top layer of skin has no support, therefore creating a dimple as it rests in this groove of skin layer. Sometimes, 'rolling' acne scars can be seen to make an entire area appear 'craggy'. These scars occur when the skin tries to protect itself, forming another band of tissue directly beneath the surface. This bad pulls on the top layer of skin, binding it to the deeper layers and crinkling its appearance.
Post-inflammatory hyperpigmentation scarring
As aforementioned, a second yet not commonly addressed type of acne scarring is post-inflammatory hyperpigmentation. Even when not medically diagnosed with acne, just simply in the possession of reactive or spot-prone skin, aggressive blemishes can leave behind a different skin tone. This can appear red-pink all the way to the more aggressive red-purple. Post-inflammatory hyperpigmentation is thought to happen because the skin is protecting itself against this damage and healing incorrectly, though it's frustratingly not 100% understood why.
Treating acne scars using…
The Dermapen. This treatment is a precision-form of microneedling that delivers tiny punctures to the skin's surface with minute needles. These tiny needle columns create a controlled wounding on the surface of the skin and stimulate the production of fresh collagen and elastin. This prompts the skin to heal from the inside-out in a much more controlled way, healing dimpled acne scarring and PIH.
The Perfect Peel. A specialised form of chemical peel, the Perfect Peel treats active acne and blemishes as well as acne scarring. The balance of chemicals within this treatment damage the surface of the skin, exfoliating away dead and damaged skin cells. Not only does this work to 'relevel' the skin, smoothing dimpled acne scarring, but it also boosts the production of fresh skin cells to replace those lost. This effectively treats hyperpigmentation, helping to instigate a fresh skin cell turnover and more even skin tone.
Obagi NuDerm. Professional skin health products such as Obagi NuDerm work best on aggressive bouts of acne and acne scarring. Their professionally formulated products work to rebalance the skin and bring about a more regulated oil production. They treat active acne and acne scarring, helping to smooth the skin into a healthier function and appearance.
Acne can be a very embarrassing skin condition, so when you finally beat it but are left with acne scarring you can feel so defeated. Acne scarring treatments are available right here with the Skin Solutions Clinic in High Peak, Derbyshire, and Independent Nurse Prescriber Karen Burgess would be more than happy to arrange a free skin consultation with you to discuss your needs. Enquire online or get in touch on 07809 492 356 today.