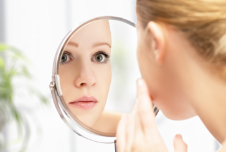 At Skin Solutions, Derbyshire, we know this is a difficult time for all. However, we have to remain positive, and our clients well being is our number one priority. People often look into extravagant treatments for improving their youth or look of the skin, however skincare is something that can easily be done, in order to improve every aspect of your skin, and your confidence. In this blog, we will be showing you all the benefits of our skincare range. 
Prepare
Our prepare gentle cleansing lotion, is formulated with natural skin calming properties, and includes fruit extracts and antioxidants. Including fragrant sweet orange oil within to care for your skin. 
Apply it to damp skin, massage gently and remove with a damp cloth or within a shower. Rinse well and pat dry. 
Reveal
Reveal is our most popular product. Containing the natural clinically proven AHAs, glycolic and citric acid to remove the build-up of dead skin cells, together with salicylic acid to remove impurities and excess oil. The combination of these properties will cleanse the skin and increase cell turnover, revealing new younger looking skin.
Apply to skin, massage and leave on for a few minutes to get to work before rinsing with warm water and patting dry. Should not be used as an eye makeup remover.
Recover
This product allows the extra care your skin needs to repair and renew from the stresses of the day whilst you sleep. It has been developed specifically to rejuvenate through its antioxidant activity. It provides an overnight recovery, for a softer youthful appearance for the new day ahead. 
Apply a small amount to your skin and massage for a few minutes, prior to sleeping and after cleansing.
C-10
Out advanced signature C-10 serum, uses evidence based formulas, in which it offers daily antioxidant protection. C-10 contains stabilized L-ascorbic acid, a form of vitamin C which is easily and quickly absorbed by the skin for greater potency. 
Apply daily, before SPF or makeup, and gently massage until absorbed. 
C-20
Clinically proven L-ascorbic acid at its peak concentration of antioxidant activity which is quickly absorbed to remove free radicals to prevent skin damage, helping to brighten the skin. The formulation is supported with ferulic acid to create a light effective serum. 
Apply to clean skin.
R+
This product is a powerful and highly effective serum containing one percent liposomal retinol, which is a stabilised vitamin A derivative which has been clinically proven to increase cell turnover. This product will reduce pore size, resulting in firmer skin, as well as reduce visible signs of ageing including pigmentation and uneven skin tone.
Apply to clean skin at night, it is important to use an SPF 50 when using retinol cream, as it increases sensitivity to sunlight.
H-2-0- Endurance Moisturiser
This luxury, silky product contains clinically proven ingredients to keep your skin optimally hydrated and in peak condition. It contains tripeptide-1 and tetranucleotide-7 as well as biomimetic peptides to help stimulate growth factors and collagen synthesis, to restore skin's moisture and reduce inflammation. Natural Tara seed extract works deep within the skin boosting moisture and preventing dehydration. It also has Vitamin C and B. 
Glow
This product has three main ingredients, Glycolic Acid has collagen synthesising properties which thickens and strengthens the skin. Vitamin E has an antioxidant capacity which protects against free redicals and strengthens the skin barrier. Lastly, Hydrated Silica has mechanical exfoliation properties which physically remove dead skin cells, making the skin look and feel smoother.
Apply to clean skin on face and neck as required. 
None of our products are tested on animals, and are made in the UK. They are also paraben free.