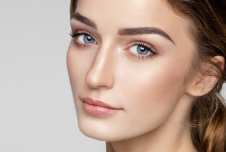 The non-surgical rhinoplasty is a leap forwards in medical aesthetics, because it provides effective results without you ever having to go under the knife. Surgery can be incredibly daunting even for the bravest of us, so it's no wonder that this treatment is becoming a popular non-surgical option to address bumps and irregularities in the ridge of the nose. If you've been curious about the non-surgical rhinoplasty (or the liquid nose-job, as it has been affectionately dubbed), here are the answers to your questions. 
What does the non-surgical rhinoplasty use?
Instead of breaking the skin and a lot of other unpleasant techniques, the non-surgical rhinoplasty only uses dermal filler. This gel-like substance is used to reshape certain areas of the soft tissue on the face, such as the cheeks and lips, and when placed underneath the skin it can add more volume and definition to the area. This is the mode of action used when correcting bumps and ridges in the nose, because we inject the dermal filler beneath the skin to 'fill out' irregular areas and correct little dips in the bridge.
Is this treatment safe?
Compared to the risks of uncertainties of a surgical rhinoplasty, this treatment is very safe. The only breaking of the skin that occurs is with a very fine needle used to inject the dermal filler. There is no cutting, no need for general anaesthetic, and no scars. The dermal filler itself is an injectable treatment that resembles a gel. This gel very closely mirrors your body's natural hyaluronic acid (HA), a substance that is essential to skin firmness and laxity that we lose as we age. This means that it is accepted by the skin, causing very minimal downtime and allowing you to return to work and daily activities immediately after your appointment. The dermal filler is broken down by your body over time just as your natural reserves are, leading to its safe dissolving within the skin.
Does this treatment hurt?
In comparison to surgery, this treatment is not nearly as uncomfortable as traditional nose correction. Your Independent Nurse Prescriber, Karen Burgess, will apply a topical numbing cream to your nose before treatment begins to make the injection process as comfortable as possible. You may still feel the needle pierce your skin and it may feel like a little sting or tingle, but this is the only pain-like sensation you should feel. During your recovery process, you may feel some throbbing and sensitivity in the area, but this can be managed with over-the-counter medication and should not impede on your daily life.
Why the non-surgical rhinoplasty is the best option
The non-surgical rhinoplasty is much less invasive, painful, and cost-effective than an unpredictable surgery. Because the dermal filler will naturally dissolve over time, your results can be amended and adapted to your needs. This is a far simpler and more cost-effective procedure than revision surgery, and it does not need days and weeks of downtime and recovery. Temporary dermal fillers are a very safe alternative to permanent fillers and surgery, both of which have been shown to be unpredictable and pose multiple risks to your results and safety.
If you'd like to correct irregularities in your nose, smooth bumps and ridges, or even appear to lift the tip, get in touch with Skin Solutions Clinic in High Peak, Derbyshire. Book your free consultation online for the non-surgical rhinoplasty or call 07809 492 356.