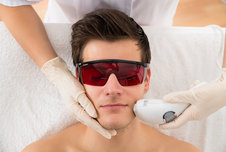 The cosmetic industry may seem to be mainly targeted towards women, but times are definitely changing and the secret is officially out! More and more men are seeing and enjoying fantastic results from a whole range of treatments, with great prices, expert treatment and options for every area of the body on offer.
Our top treatments
There are many treatments we can offer men, including:
Wrinkle relaxing injections – also known as botox, these can help iron out wrinkles and prevent new ones from forming. The treatment is usually used on the forehead and around the eyes.
Dermal fillers – these replace the skin-strengthening protein, collagen, that we lose as we age. They work on deep lines and wrinkles, but can also add volume to areas of the face.
Acne scarring – treat spots, blemishes and scars of all shapes and sizes with 'Intense Pulse Light' therapy, chemical peels or the dermaroller (microneedling).
Dermaroller/dermapen – a type of skin rejuvenation, this uses small needles to prompt the skin's healing response, for a plump, radiant result.
Laser treatments – these can be used to treat everything from hair removal to acne scarring.
Liquid face lift – a non-surgical face lift, which uses a combination of injections to plump and tighten skin.
Chemical peel – provides all-over rejuvenation for the face, tackling uneven skin tone, sun damage and uneven texture.
Lip enhancement – subtly enhances the fullness and definition of the lips – whether your lips are thin or asymmetrical.
Skin rejuvenation – includes various treatments, such as IPL, chemical peels and microdermabrasion.
Collagen stimulators – these help correct areas such as the cheekbones and nasolabial folds, while prompting the skin to create its own collagen.
Ultimate Shaping Solution – similar to a thread lift, this uses incisions behind the ears and in the hairline to lift the face and neck.
Hair removal – this uses IPL to target the hair follicle with light and destroy the root, stopping regrowth.
Broken capillaries – also known as thread veins or spider veins, these are small, red blood vessels below the surface of the skin that can be caused by lifestyle factors, sun damage and ageing, and are treated with IPL.
Whether you're new to these treatments or want to try something different, we can help. Our Nurse Prescriber, Karen Burgess BSc (hons) has over 25 years' nursing experience and can help you achieve the results you're looking for. Book in for a free consultation by simply filling out our web form here.