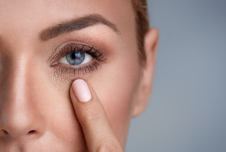 Tired eyes through hard work and late nights are almost inescapable. After socialising into the small hours or after a restless night, we almost expect to see the hollows beneath our eyes exaggerated and darkened. This is natural, but sometimes even sleep doesn't help the appearance of under-eye bags or tear troughs. When our eyes appear tired through natural biology and the signs of ageing, it's easy to feel that you aren't presenting yourself to the world in the best way possible. If eyes are the windows to the soul, nobody wants their soul to appear tired and melancholy when it is vibrant and lively. The appearance of tired eyes and under-eye hollows can be improved, however, with advanced tear trough dermal filler. So, how does this treatment work?
Why tired eyes and under-eye hollows occur
Tired-looking eyes can appear more prominent as you age, but they can also be present from your 20s too. The skin in this area is naturally very thin, so if you naturally have less volume here than others do your skin may appear to sit atop the bone of your eye sockets. As we age, we lose vital proteins in your skin like collagen, which is essential to skin laxity, and fat deposits decrease and cause loosened skin to fall downwards. This thinning and downwards pull can lead to your under-eye hollows becoming more prominent and give an unwanted 'sunken' look to your eyes. This area can produce dark circles that have nothing to do with sleep levels too, because the thin skin becomes a little more transparent and shows the muscles and blood vessels through the skin. This leads to the hollows taking on a dark, purpley hue.
Tear trough dermal filler for tired eyes
Placing dermal filler in the tear troughs is an advanced technique that has been mastered by Karen Burgess, Independent Nurse Prescriber at Skin Solutions Clinic. The treatment uses precision-placed and fine injections of dermal filler in the tear troughs to create more volume in the skin and under-eye hollows. This helps to lift the skin, lessening the appearance of sunken eyes, and creates more substance between the surface of the skin and the dark muscles beneath. It not only helps to restructure thinning and falling skin, but it also improves the darkened colour of the tear troughs. Through this technique your eyes could appear more open, brighter, and less heavy-set.
Is this treatment safe?
As this is an advanced treatment, tear trough dermal filler is only advisable when performed by a qualified medical professional. Dermal fillers themselves are very safe to use in trained hands, as they are a gel-like substance that closely mirrors your body's natural hyaluronic acid (HA). The procedure is entirely non-surgical, so there is very minimal downtime aside from minor side effects such as the risks of bruising, swelling, and a little redness.
Improve your tired eyes and look more alert with tear trough dermal filler in High Peak, Derbyshire. Arrange your free consultation today to discover how this treatment may benefit you and to plan your unique patient journey. Enquire online or get in touch on 07809 492 356.