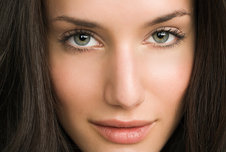 One of the biggest changes you can make to your appearance is enhancing your smile. At our skin clinic based in beautiful Derbyshire, we regularly carry out lip augmentation and other complementary treatments to give our clients a gorgeous grin – and a big boost to their confidence.
Here's how it all works.
Whatever treatment you're interested in, Karen invites all her clients to a pre-treatment consultation to really get an understanding of you and the results you're looking for. Even when it comes to something as simple as your smile, different people want a different look – from a subtle change to a dramatic makeover.
When it comes to treatment, there's lots we can do to get your lips looking lovely. We can:
– Add definition and width
– Boost volume
– Lift away lines and wrinkles
Even in cases where our clients want a big change, we try to create something that looks natural and not 'over-filled' or 'fake'. Whatever you decide, you'll see results straight away – and these will last up to 12 months.
Following your lip augmentation, we advise against touching the mouth or wearing make-up for around 6 hours. You might have some sensitivity or swelling around the injected areas, so some downtime is usually anticipated.
In the long-term:
– As with many skin treatments, keeping sun-safe is essential and can help prevent those niggling signs of ageing, such as lines and wrinkles, or dryness. Lip balm with SPF is a great product to pop in your beauty arsenal.
– Keeping hydrated can help combat that 'dry', aged look. A lip butter with shea, cocoa or coconut butter could help. Using an exfoliating lip scrub can also reveal that gorgeous, younger skin below and remove any dead skin cells.
– Removing make-up at bedtime lets your skin – and lips – breathe.
Why choose Skin Solutions Clinic?

Led by Karen Burgess BSC (hons), our Derbyshire-based skin clinic offers both cosmetic and medical treatments that help you get the best out of your skin. We're firm believers that when you look good, you feel good – and one small change can make a big difference.
Karen has been a Nurse for over 20 years and is a registered Nurse Prescriber and member of BACN (British Association of Cosmetic Nurses), so whether you're new to aesthetic treatments or you're simply wanting to try a different clinic, you're in trusted hands with Skin Solutions.
Book in with us today, and start the next step in your skin journey.